2018 – The "CAROLINA" Spelling Bee Award
New to the 2018 "Carolina Weekend" and the South Carolina QSO Party is the "CAROLINA" Spelling Bee. Simply put, work counties in North and South Carolina where the first letter of the county name is contained in "CAROLINA"  After all the letters are worked, you are eligible for a great certificate designed by Marc, W4MPS, and be entered into a random drawing for a fabulous prize. click here for the details.
---
The "Carolina Weekend"
"Worked Most Carolina Counties (NC/SC)" Award

The NCQP and SCQP have joined forces once again to bring you two of the best QSO Parties in the country in one weekend. The entrant who works the most counties in North and South Carolina will receive this award. Click here for the details.
---
2018 SCQP "Rare County" Bonus Station

New for 2018 is our "Rare County" Bonus Station. Last year we didn't have any contacts from Chesterfield county. For 2018, you will receive 50 Bonus Points for each valid contact with a station located in Chesterfield county. So this is an opportunity to Chesterfield county ops to get on the air. Don't worry if you logging software doesn't include these points in your claimed score… Our scoring software will include these points.  
---
---
Attention: Due to unforeseen problems, the delivery of the 2017 category awards has been delayed. Category winners will receive sponsored awards in the next 30-60 days. We are taking steps to make sure that the 2018 awards are delivered in a reasonable period of time. Thanks for your patience.

---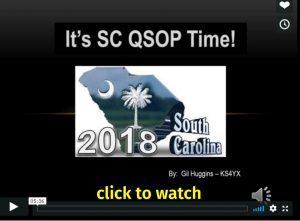 ---